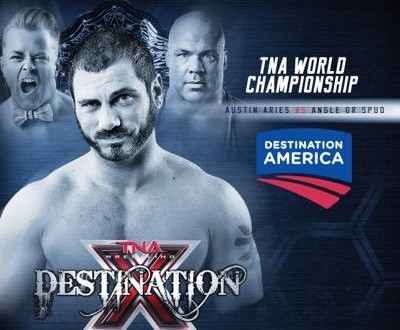 By Big Red Machine
From June 10, 2015
GRADO is in the X-Division? Give me a f*cking break! Here's an idea: just do an eight-man tournament and don't spend money flying this guy in all the way from Scotland. Is he even over in the US?

OPENING SEGMENT- bad.
THEY'RE OPENING WITH KURT VS. SPUD? WHAT THE F*CK?!
Ethan is angry and has decided to hold the show hostage. He dares anyone to come out and stop him, so Kurt comes out and they yell at each other. I swear I saw this same thing last week. EC III just comes out and backs down from Kurt, making this whole thing a waste of time.

TNA WORLD HEAVYWEIGHT TITLE MATCH: Kurt Angle(c) vs. Spud- 6.75/10
So they're doing this match now, but then Aries has to wait for the end of the show? What happened to the "at any time" part of the contract? It really seems to me like Aries is getting boned here.
The match was very good for the time it got… but the time it got wasn't even ten minutes. I also didn't like the way they got into the that last Ankle Lock because I thought it made Spud look a little stupid for getting caught like that while randomly walking around.

If you aren't even going to give them ten minutes, why not have Ethan come out and assault both guys for the DQ? This would not only play into the opening segment, but you have Spud take the brunt of the beating, putting him out action until either Slammiversary (where he could beat Tyrus) or right afterwards. You could have Ethan threaten to take Aries out as well but have Aries take Ethan out instead, so the main event becomes Aries not only having the freshness advantage, but also being able to take advantage of whatever injuries Ethan's beatdown caused Kurt (Aries did just turn heel last week, remember?).
If Kurt is going to retain at Slammiversary you have him win by making Aries tap. This way you have Spud ready to go as a post-PPV challenger, and you can do a deal where Aries taps out to an ankle lock to lose the tag title series and Roode blames it on this ankle lock and Aries "selfishness" in taking this match instead of focusing on the tag titles.
If Kurt is going to lose at Slammiversary, you have him beat Aries by roll-up. This way, right out of the gate, Ethan has not only Kurt's rematch, but also Spud and Aries (who should still be hot enough between Ethan's issues with him because of the attack and being able to claim that Kurt's roll-up win was a fluke) all set to go as challengers for Ethan.

The moment the bell rings, Josh is back to being a babyface again, saying things like "how can you not believe in miracles?" etc. etc.
Josh randomly decides to use Spud's shoot name. That was dumb and pointless.

TARYN PROMO- she's offering Kong a title match… but only in a "lingerie pillow fight." I actually thought this was pretty clever.

THE X-DIVISION TOURNAMENT VIDEO PACKAGE- good.

X-DIVISION TITLE TOURNAMENT FIRST-ROUND MATCH: Low Ki vs. Manik vs. Crazzy Steve- 4.75/10
They did stuff. Manik taking the pin instead of Steve seems silly. Steve has been a dead-end for months. Manik is part of a (theoretically) important heel stable.

GRADO PROMO- terrible.
Oh look. Dumb comedy. This idiot thinks he needs to lose weight to be in the division whose slogan has always been "It's not about weight limits, it's about no limits." And then there is the fact that I could baely understand him once he stopped facing the camera, and all of the dumb physical comedy. Why the hell did they bring this guy in?

A RECAP OF MICKIE JAMES' MURDER- Yup. It took them forty minutes to get around to mentioning that JAMES STORM MURDERED MICKIE JAMES DEAD LAST WEEK ON THEIR TELEVISION!
Oh. Good news everyone. It turns out Mickie isn't dead. In fact, Josh Matthews told us "Mickie wasn't physically harmed." HE PUSHED HER OFF OF A PLATFORM AND ONTO TRAIN TRACKS! HOW THE F*CK WAS SHE NOT PHYSICALLY HARMED!
Magnus will be here next week. There was no talk whatsoever of the company perhaps taking some action against James Storm for the ATTEMPTED MURDER.

X-DIVISION TITLE TOURNAMENT FIRST-ROUND MATCH: Mandrews vs. DJ Zema Ion vs. Tigre Uno- 5.75/10
I was very glad to see Tigre Uno pick up the win. I was less glad to see his knee land on Mandrews' face on the finish. That looked REALLY painful.

JESSE GODDERZ JUMPS DJ ZEMA ION- Apparently Jesse not only "took out" Robbie E. a few weeks ago, but he also recently defeated Zema. I have no memory of any of this.

TIGRE UNO & GRADO BACKSTAGE- Grado is really annoying. I hate him and never want to see him again. Tigre Uno called him a jackass and thus became my new favorite wrestler.

LINGERIE PILLOW FIGHT FOR THE TNA KNOCKSOUTS TITLE: Taryn Terrell(c) (w/the Dollhouse) vs. Awesome Kong- no rating. Terrible segment.
Marti Belle's promo was horrid, and it really felt like nothing was accomplished here. Then, instead of Taryn facing Kong, with whom she not only has put on great matches, but also has unfinished business, we got Brooke Tessmacher coming out to accept the challenge to a match that was made to someone else. Brooke's promo was also insufferable, and she seems to be way too dumb to comprehend that Taryn designed this whole scheme so that she WOULDN'T have to either defend her title or show her lingerie. And to top it all off, they are now positioning Tessmacher as the #1 contender to the Knockouts Title, which 100% feels like it should be Gail's spot.

ARIES & ROODE BACKSTAGE- Roode wants the first shot when Aries wins the title.

MORE OF GRADO BEING AN INSUFFERABLE ASS-HAT- he's annoying.

X-DIVISION TITLE TOURNAMENT FIRST-ROUND MATCH: Kenny King vs. Cruz vs. Grado- 3/10
Josh claims we've seen this "Cruz" guy on Impact before, but I don't have him down in any of my notes going back to the beginning of this forum in late 2010.
Almost no reaction for Grado. That's because he is annoying and hate-able. Kenny King is now my new favorite wrestler. If they actually put the title on Grado, I will throw something.

BRAM PROMO- he beat a cameraman just because. He claims he is about to "make history." I highly doubt that.

BRAM IN-RING PROMO- bad. The same guy who said he was going to make history now claims to "hate history." He calls out anyone from TNA's past, so TNA apparently got Crimson for him. Crimson got no reaction, which is always a bad sign for a nostalgia angle.

BRAM vs. CRIMSON- 0.75/10
Well… that was f*cking boring.

KURT ANGLE PROMO- He claims that Spud took him to the limit. In ten minutes and with no offense? Give me a f*cking break. He guarantees both a win against Aries and also the Match of the Year. I'm betting that only one of those things will happen.

EC III PROMO- good

TNA WORLD HEAVYWEIGHT TITLE MATCH: Kurt Angle(c) vs. Austin Aries- 8.25/10
AWESOME! Best singles match TNA has had in quite a long time.

This was a well-paced show that happened to be a sh*t sandwich… by which I mean the opener and the main event were great, but the stuff between them was (mostly) sh*t.


STUPID ANNOUNCER QUOTES:
1. Josh Matthews- "The first Destination X was just over eight years ago."
Which would be 2007, which is strange because I have DVDs on my shelf labelled TNA Destination X 2005 and TNA Destination X 2006. I guess Josh just can't do basic math.