Hey guys,
TNA Against All Odds 7 is now history and now, we look forward to 3 weeks from now LIVE on PPV
It's TNA Victory Road 11
Victory is reversed for those who are willing to pay the price
Last week @ Against All Odds, Jeff Hardy regained the TNA World Heavyweight Championship for a 2nd time meaning that Immortal has posession of the most covenant title in Professional Wrestling
But there are others who want the title
Who will be next to face The Charismatic Enigma?
and also, Fortune still holds posession of all of the other TNA Titles
Kazarian is still the TNA X-Division Champion, Beer Money are still the TNA World Tag Team Champions, AJ Styles is back standing tall and "Big Poppa Pump" Scott Steiner is also back as Fortune's Bodyguard
Who will be next to face Fortune?
also, Kurt Angle is also standing tall against Immortal
He's after everyone
Jeff Hardy, Hulk Hogan, Eric Bischoff and even the Founder of TNA Jeff Jarrett
and he's out for Revenge
Who will be Kurt Angle's Next Target?
Who be next to face Abyss for the TNA Television Title?
Will the Beautiful People ever be the same?
and who will be next to face Madison Rayne for the TNA Women's Knockout Championship?
Well you get the answers to these and other HOT Burning Questions as you tune in to TNA Victory Road 11
The Final STOP towards TNA Lockdown
LIVE in 3 weeks only on PPV
and to give you a preview, here's a Tag of TNA Victory Road 11
Check it out:
and now, here's a Poster of TNA Victory Road 11 Featuring Former 3x TNA World Heavyweight Champion Kurt Angle
Check it out: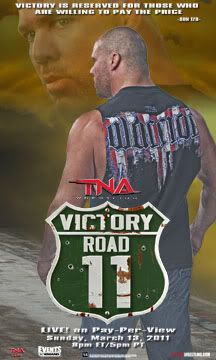 [youtube]
[/youtube]