Hey guys,
Here are some facts about Layla El and Eve Torres:
Layla and Eve and have 3 things in common:
#1) They're both WWE Diva Search Winners and they're the only 2 Diva Search Winners that are currently active in the WWE
#2) They're both Former WWE Divas Champions
#3) They're both successful Valets
Not in that particular order
Layla El is also the last woman to hold the WWE Women's Championship when she def. Beth Phoenix also known as The Glamazon
But here's a 4th thing that they have in common:
Believe it or not, they're both Former NBA Dancers
Layla El was a dancer for Carnival Cruise Lines. Following that, she began dancing for the NBA's Miami Heat franchise, where she danced for two years as part of the Miami Heat dance troupe where she also received a championship ring
During that time, she appeared on-stage with R&B/Soul Singer/Pianist John Legend as one of his backup dancers
She also danced for Rappers P. Diddy and Kanye West at the MTV Video Music Awards
During the ECW Days on Sci-Fi/Syfy, Layla El took part in the infamous Extreme Expose (WWE's Poor Version of The Nitro Girls) and teamed up w/Future TNA Valet Brooke Adams and Barbie Blank better known as Kelly Kelly
Layla along w/Kelly Kelly, Brooke Adams, WWE 2005 Diva Search Winner Ashley Massaro, Maryse and Torrie Wilson all appeared on Timbaland's Music Video entitled "Throw it on Me"
Her favorite dancers are The Queen of Pop Madonna, Janet Jackson and The Girl from the Block known as J-Lo
Eve Torres on the other hand is also a dancer
While attending the University of Southern California (USC), Eve Torres appeared in commercials and music videos
She was the co-captain of the USC Fly Girls dance squad and created much of their choreography
She also danced for The Southern California Summer Pro League, the only summer league for the NBA players, in Long Beach, CA
After graduating from college, she moved into dancing and modeling full-time
After reaching the tryout finals in previous years, she became a member of the NBA's Los Angeles Clippers Spirit Dance Team for the 2006–07 season
She also appeared on the short-lived abc Game Show Show Me The Money w/Star Trek Legend William Shatner
Show Me the Money was Produced by Scott St. John Producer of Street Smarts, Deal or No Deal and 1 vs. 100
William Shatner is also best known as the host of Rescue 911 from 1989-1994, TekWar and 80's Supercop T.J. Hooker
Eve's Favorite Music Artist is Beyonce'
and here's another interesting fact:
In 2006, the Miami Heat won the 2006 NBA Championship for the very 1st time and it was the 4th time that Shaquille O'Neal won an NBA Championship when they def. the Dallas Mavericks 4-2 and Layla El won the 2006 WWE Diva Search and it was also that same year that WWE's 1st Diva Search Winner Christy Hemme jumped ship to TNA @ the 2nd Annual TNA Lockdown PPV
Fascinating
Layla El and Eve Torres both remain close friends w/each other in Real Life
They also remain Close Friends w/Former WWE Diva Turned TNA Knockout Lisa Marie Varon better known as Tara
and those are the facts on 2 NBA Dancers turned WWE Divas
Layla El and Eve Torres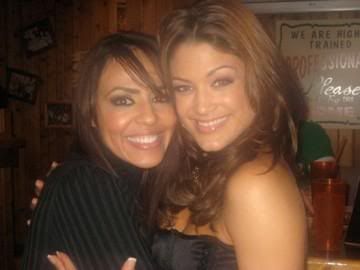 Layla El as a Miami Heat Girl
Eve Torres as an LA Clipper Girl
Layla El as the last WWE Women's Champion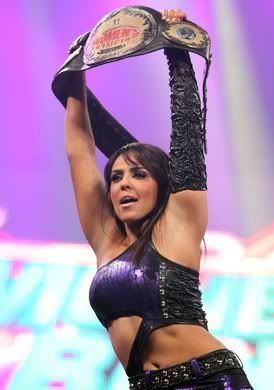 Eve Torres as the WWE Divas Champion
Layla El as a Valet for William Regal
Eve Torres as a Valet for R-Truth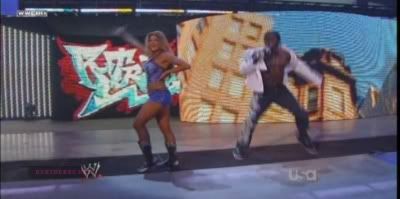 Layla El, Brooke Adams and Kelly Kelly as Extreme Expose
Layla El, Brooke Adams, Kelly Kelly, Ashley Massaro, Maryse and Torrie Wilson presenting the RAW Audience w/a
Music Video
Lilian Garcia and Eve Torres on FSN's Best Damn Sports Show Period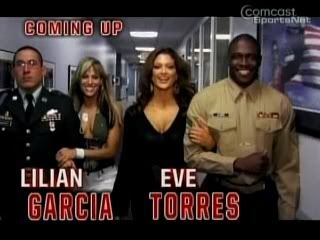 Eve Torres teaming up w/Melina and they're Pretty in Pink and Purple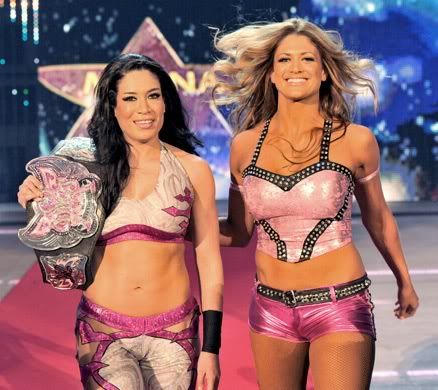 and here's a Music Video of Timbaland's Throw it on Me Featuring Layla, Brooke, Kelly Kelly, Ashley, Maryse and Torrie Wilson